This outstanding redevelopment will create first-class cultural, conferencing and sporting facilities known as The Devonshire Park Quarter.
The new Welcome Building will provide a fully accessible entrance to the Congress Theatre, including lifts to every floor, two new large conference spaces, a central box office, breakout and hospitality areas and a coffee and wine bar with views across the tennis lawns to the International Tennis Centre.
In addition to the construction of the brand new Welcome Building, the existing Grade II* Listed buildings, Devonshire Park Theatre, Congress Theatre and the Winter Garden will be extensively restored. This will include improvements to the accessible infrastructure between the Gold Room and the Floral Hall with additional meeting rooms created where the current administration offices are housed.
| | |
| --- | --- |
| Client: | Conference Eastbourne |
| Sector: | Commercial |
| Project: | Devonshire Park |
| Scope: | Enabling works, major basement excavation and reinforced concrete basement construction, reinforced concrete frame including exposed concrete finishes.  Sitewide drainage and services.  Excavation and structural concrete works inside the existing historic Winter Gardens Pavillion.  Highway works and external works including paved areas. |
| Value: | £3.5M |
| Duration: | 2.5 years |
Project Update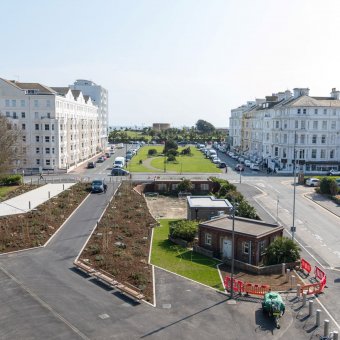 21 Jun, 2019
Work drawing to a close
Our work on this project is drawing to a close.  The entire facility has been transformed by the project, leaving Eastbourne with a new Arts and Conference facility to be proud of.  The last part of our work was to form a new urban landscape around the facility and this work has really added to the overall impression of the development.